Can you believe the release of
Deathly Hallows
was just ONE week ago?!?!
Here are the pics from our HP orgy!!!!Sorry if some of them are kind of shitty. Photobucket is being a total pube so I can't see if they all turned out okay while transferring them.
The pacific northwest...We do rain, and we do it well.
Line in front of us.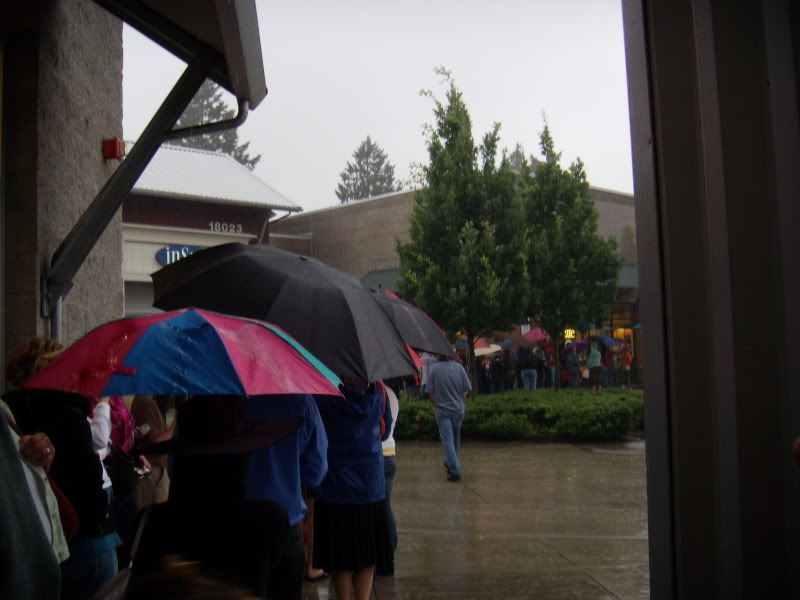 Line in back of us (which grew A LOT), ha ha!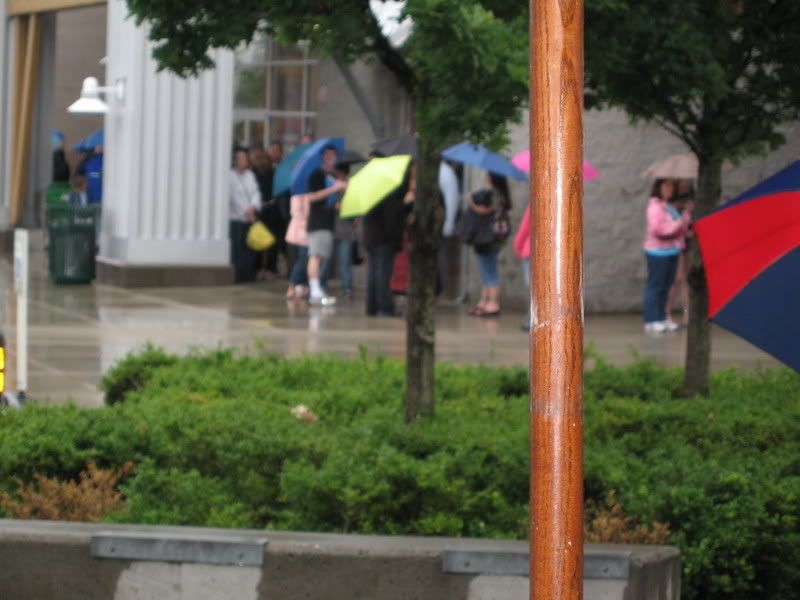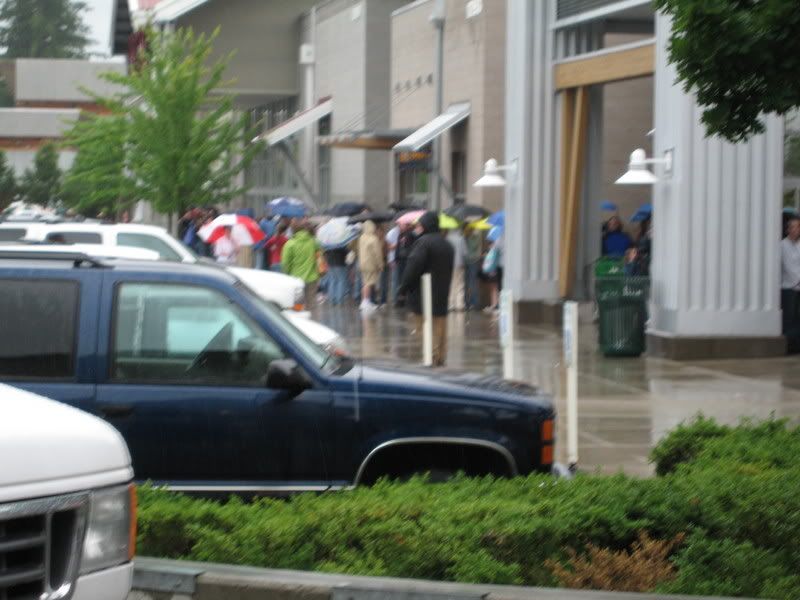 And Audrey still hadn't finish her Ravenclaw scarf...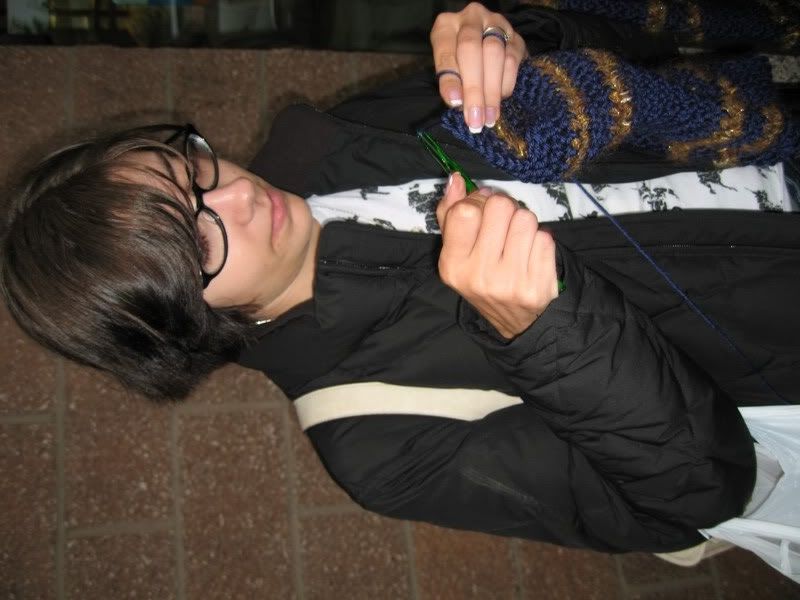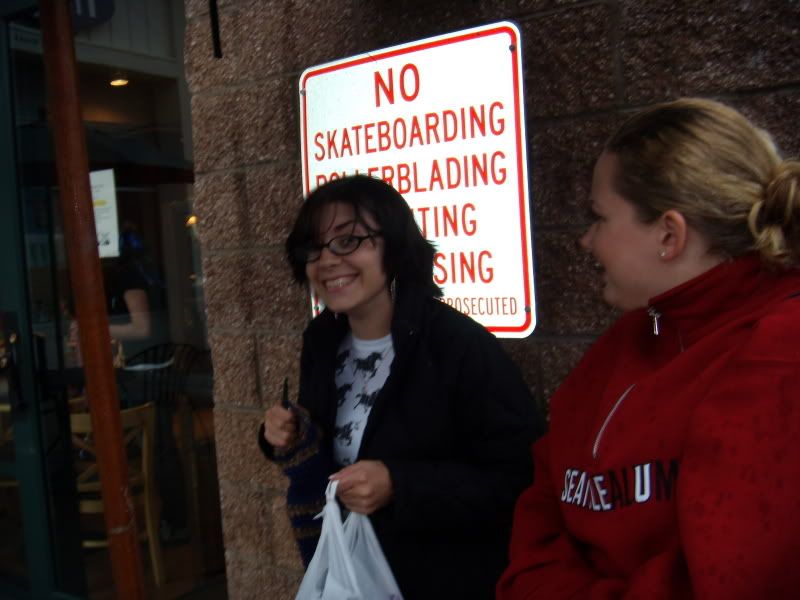 But I has a scarf! XD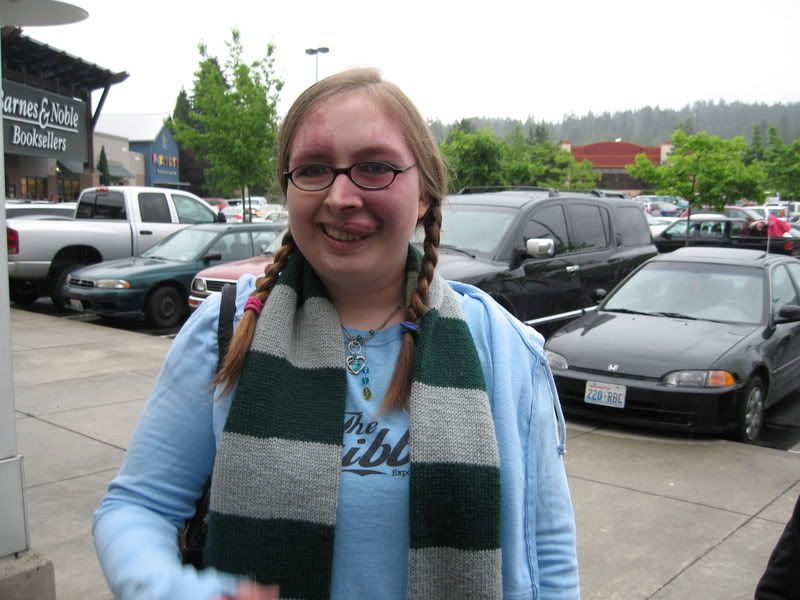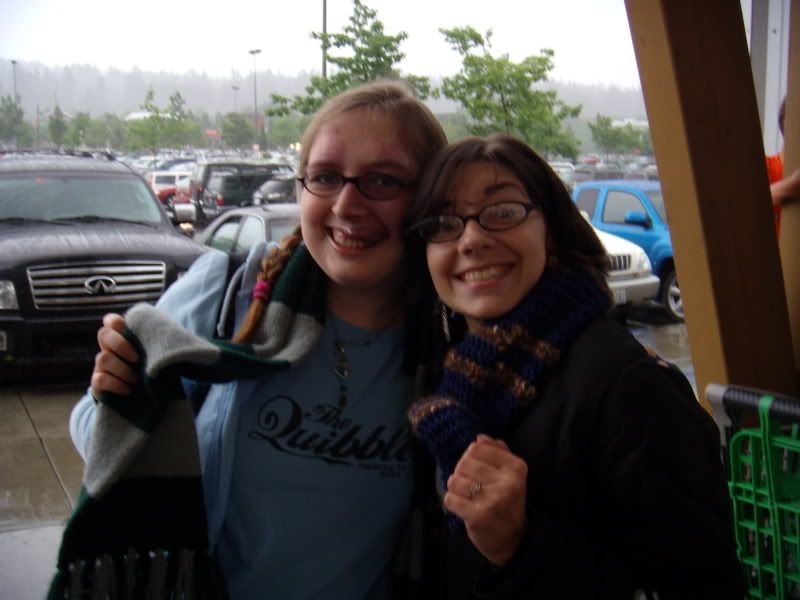 Laurie just being a dork in general.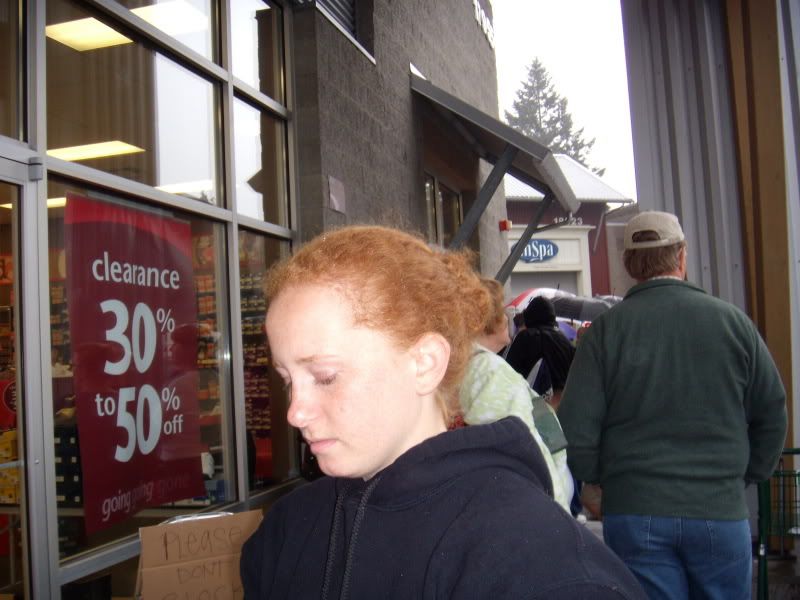 This is Sara, the one attempting to give Laurie bunny ears in the photo above.
Laura taking her break to just be faboo.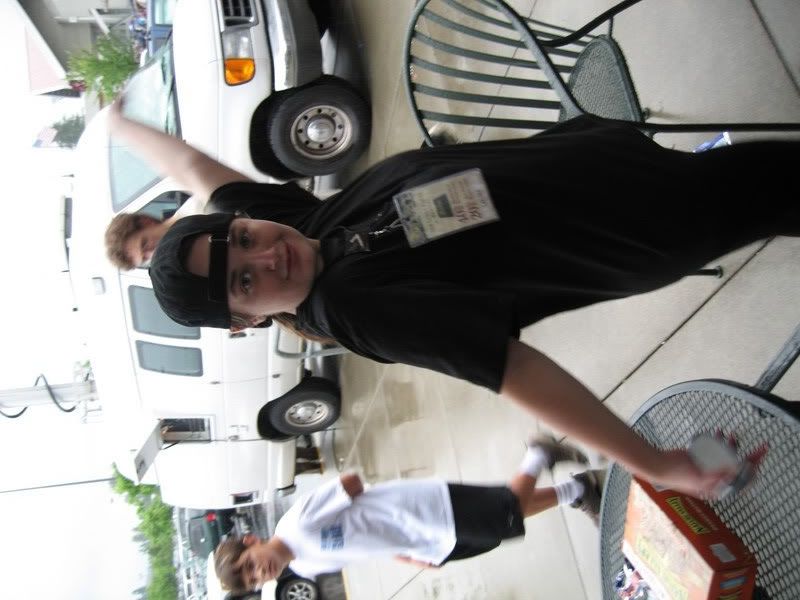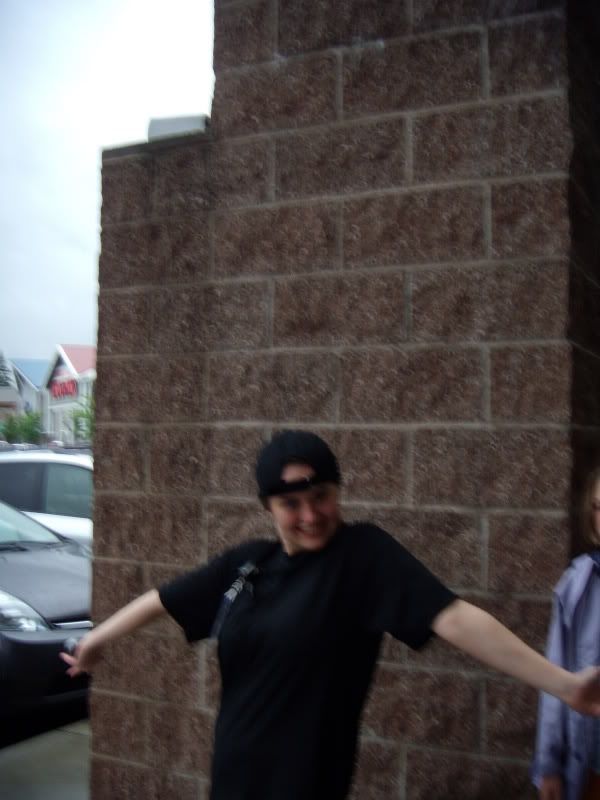 After getting our wristbands, we went to Mongolian Grill for dinner.
I can has Mongolian?!
We then went to PetSmart, to pet the rescued kitties. There was one surly one named Mable. Man, I wanted to take her home! But alas, my mom says no more pets. *pout*
Then we went back to Barnes and Noble, to harass Laura at her job.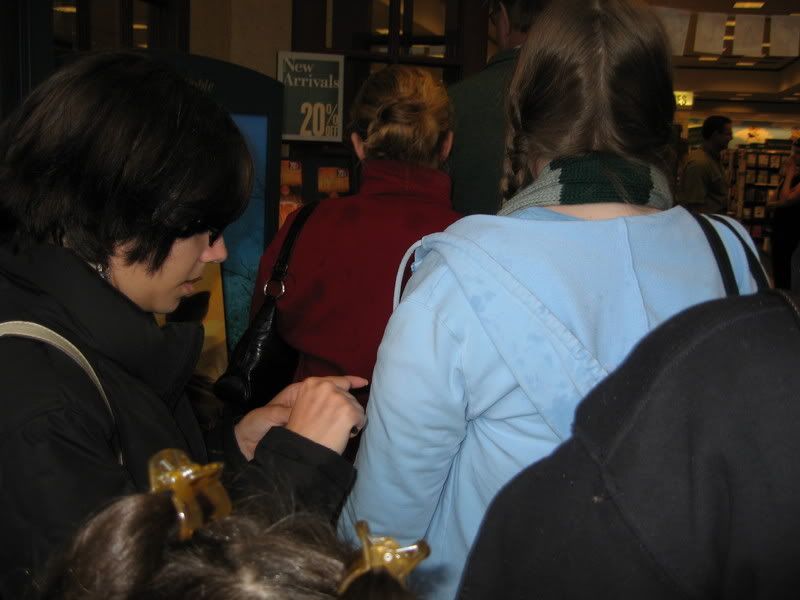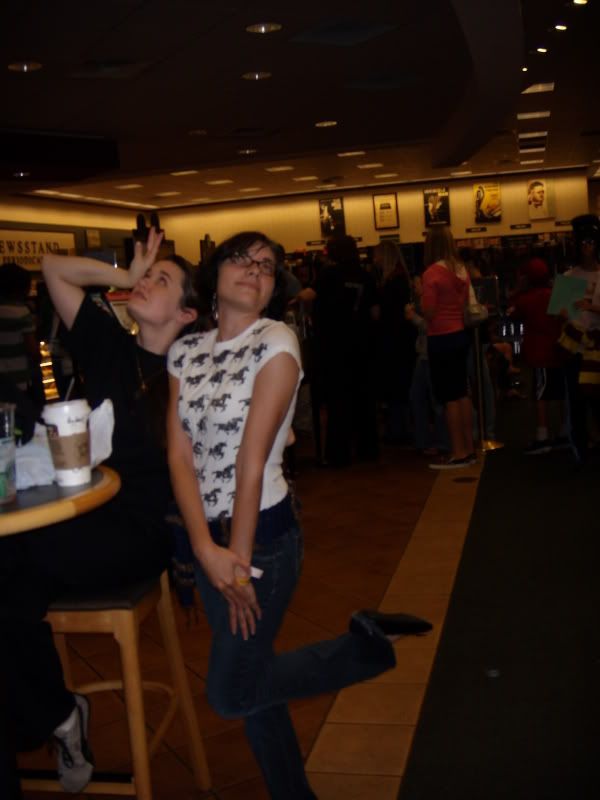 And to get our official pic taken! Sorry this one is especially crappy. I have no scanner, so I had to take a picture of the picture.
Then we went to Red Robin for mass drinking.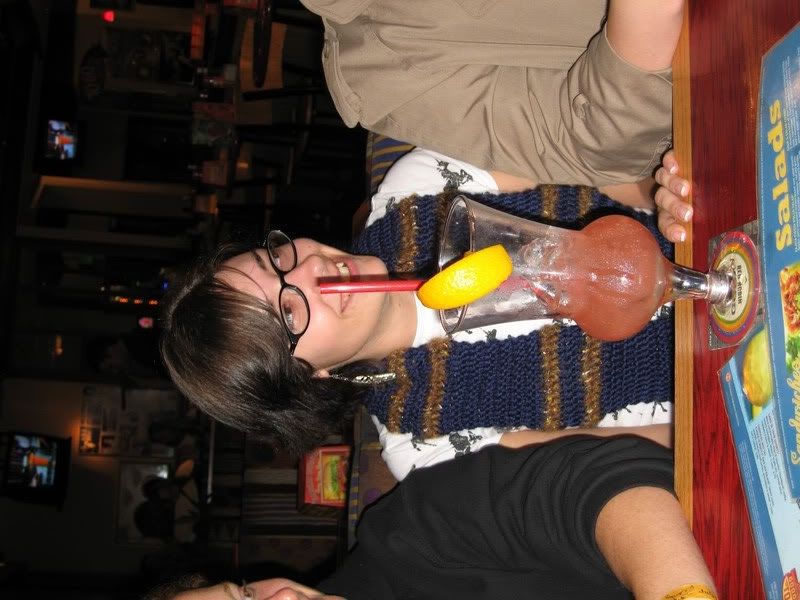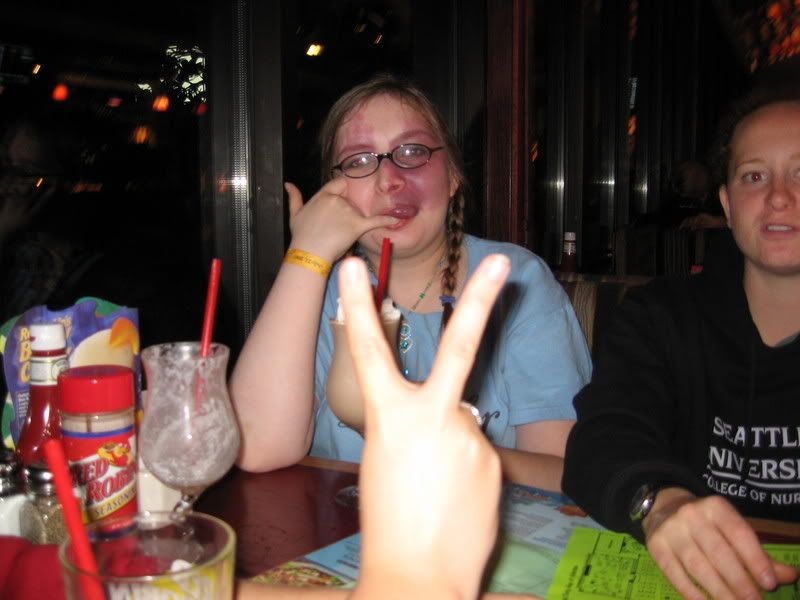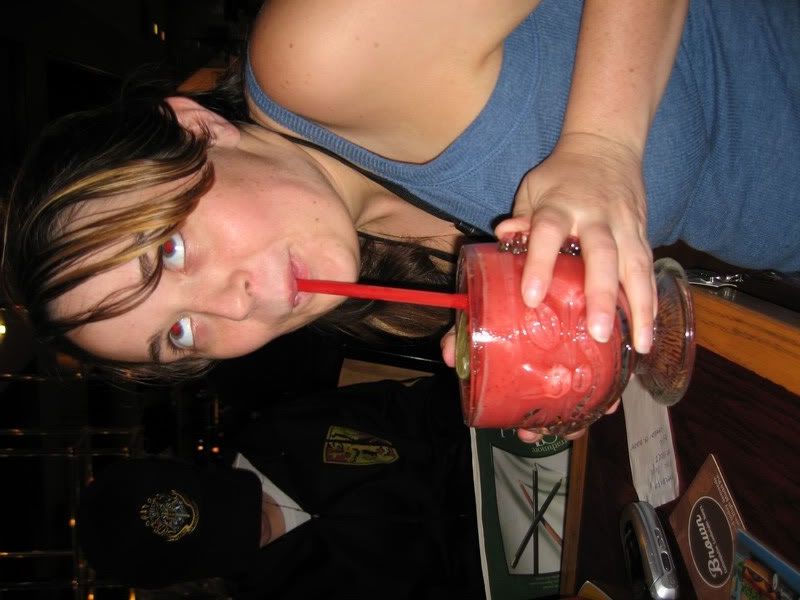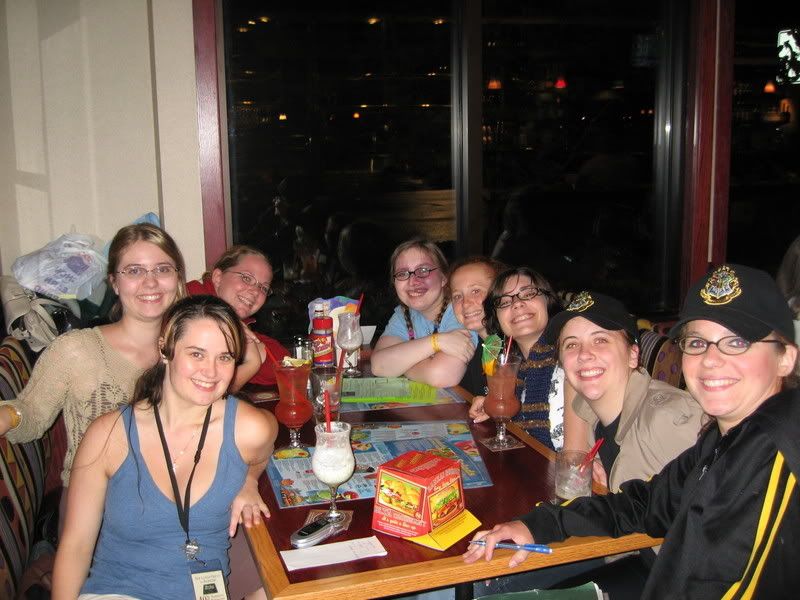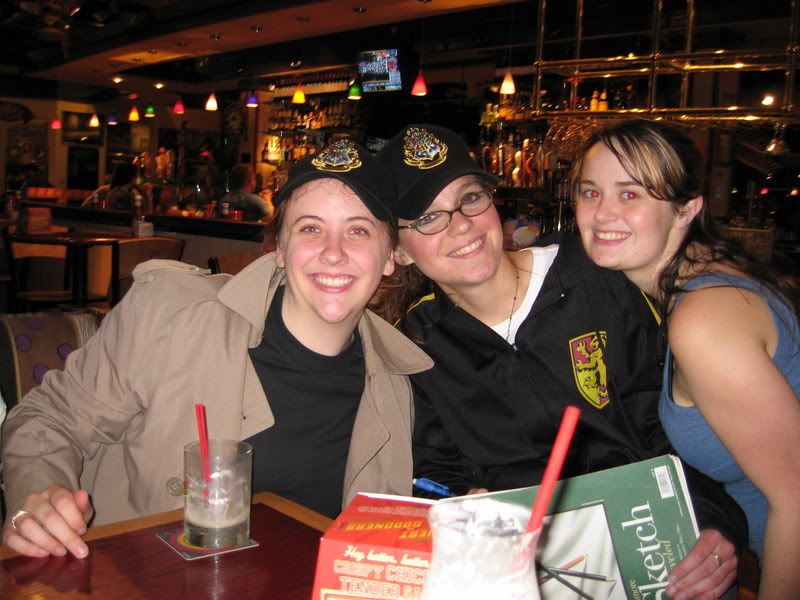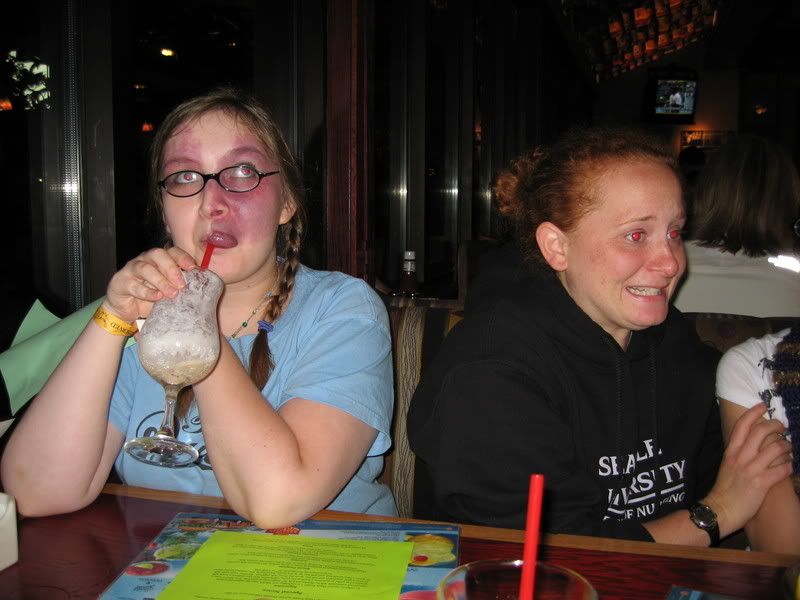 I don't think Auds ever passed through Frued's oral fixation stage...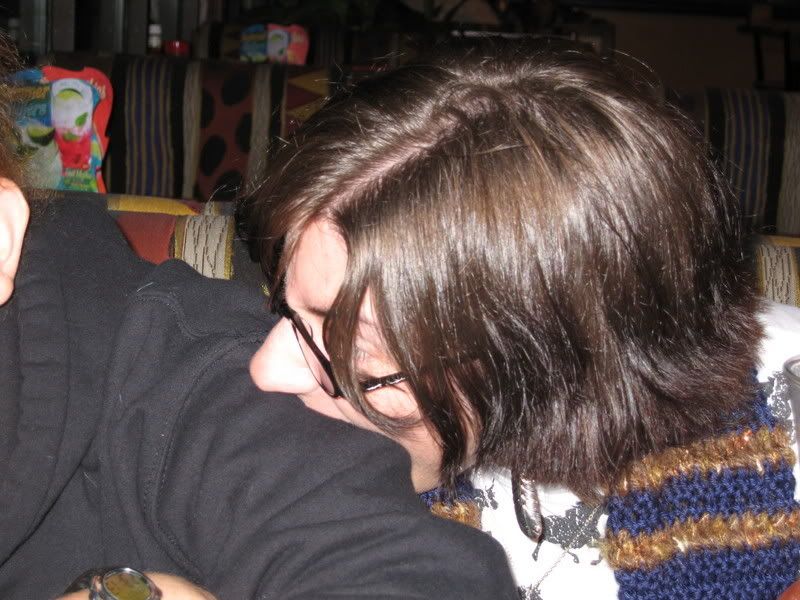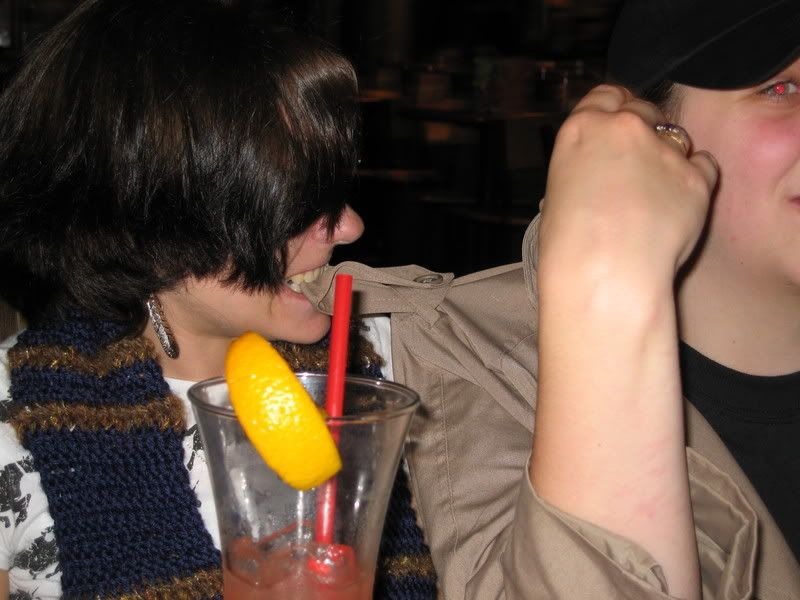 Laurie is sleepy...
And promptly goes to bed at the table.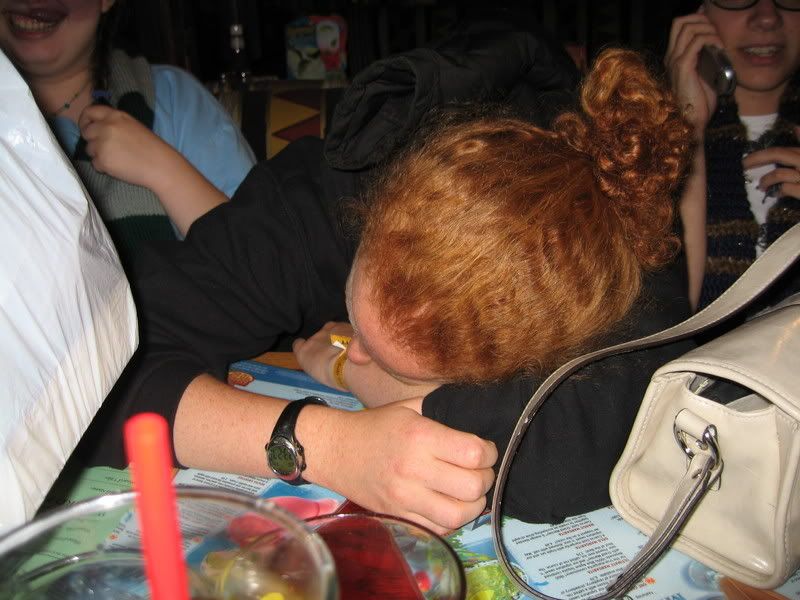 While Audrey and I were in the bathroom at Red Robin, the others headed back to B&N. And Mary stole my scarf!!!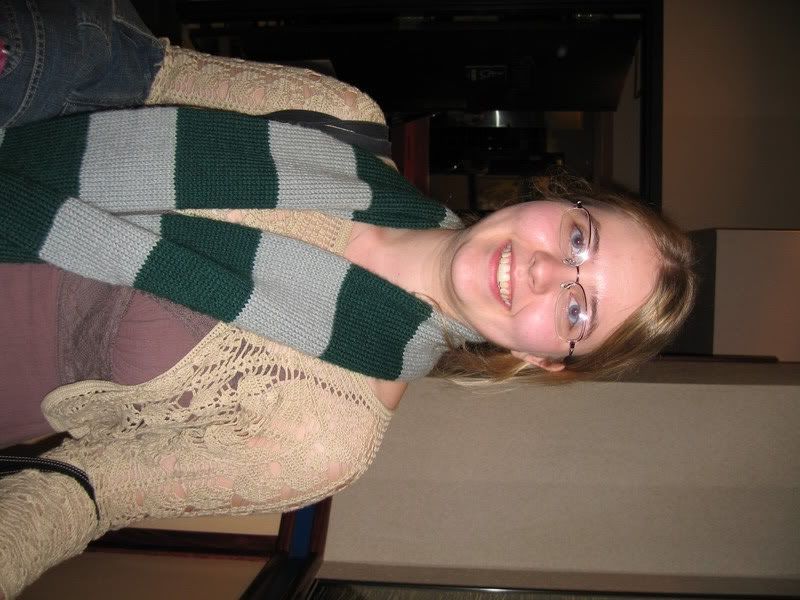 Hellooooo Audrey!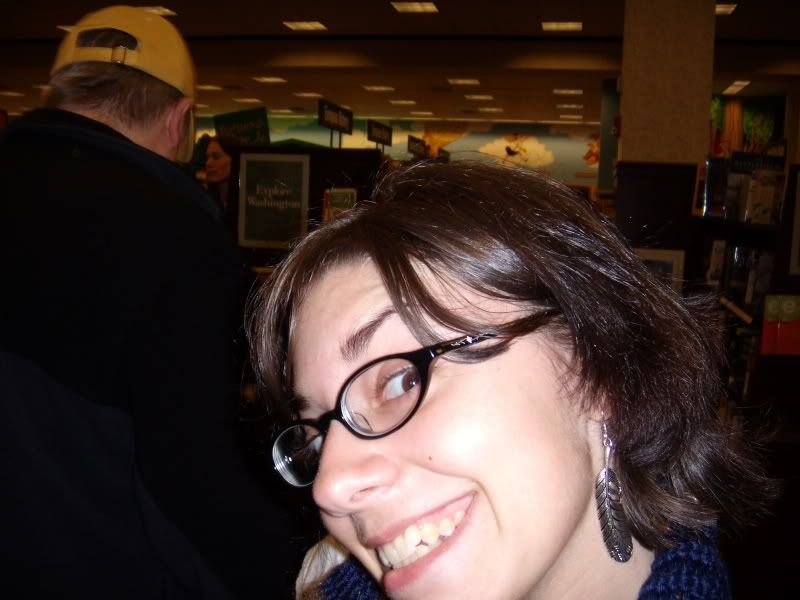 Laura is checking out Mary's arse I guess.
And now Laura's being cheeky.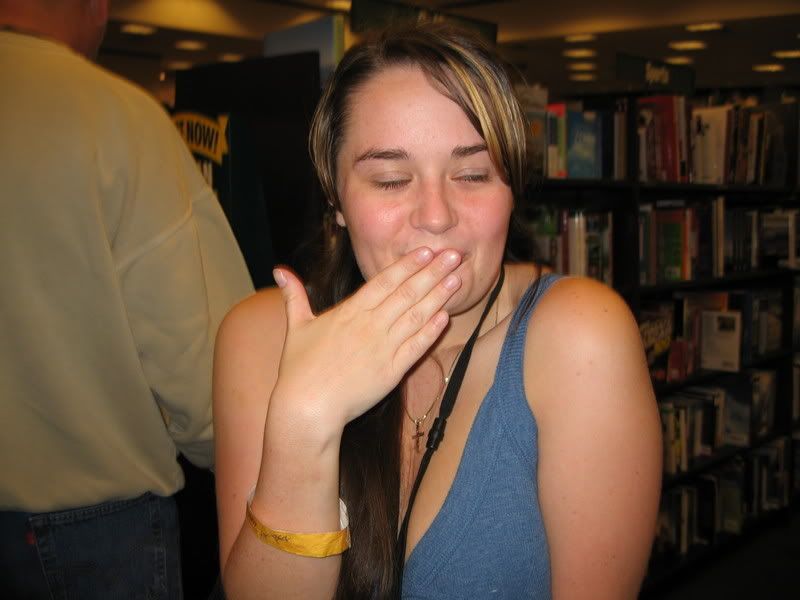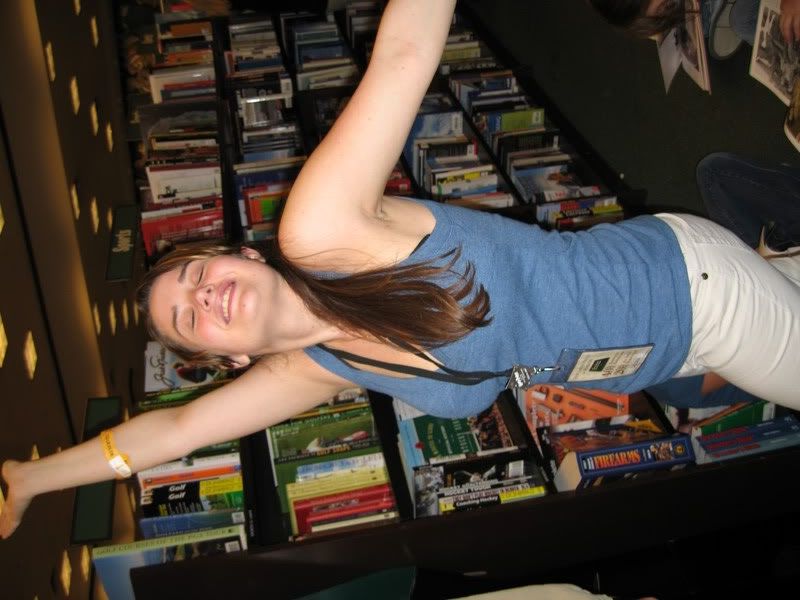 Laurie is still sleepy...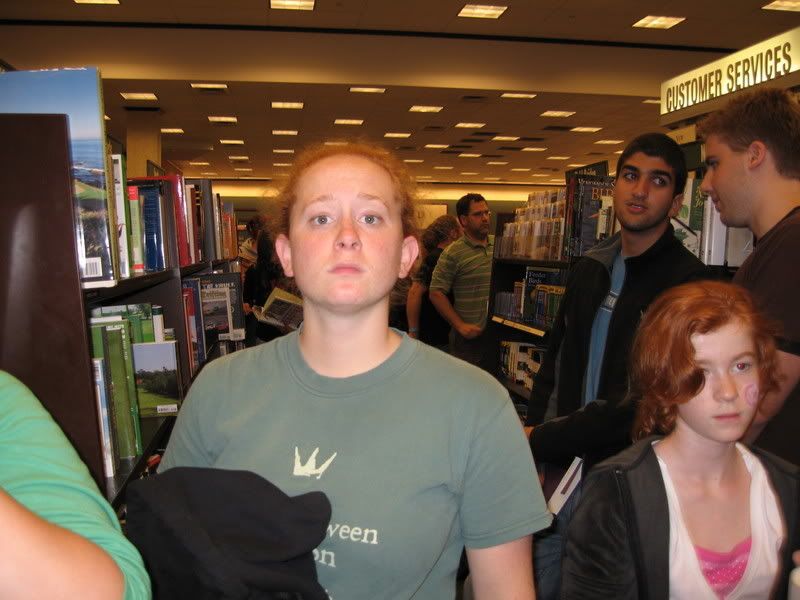 But she has Red Bull!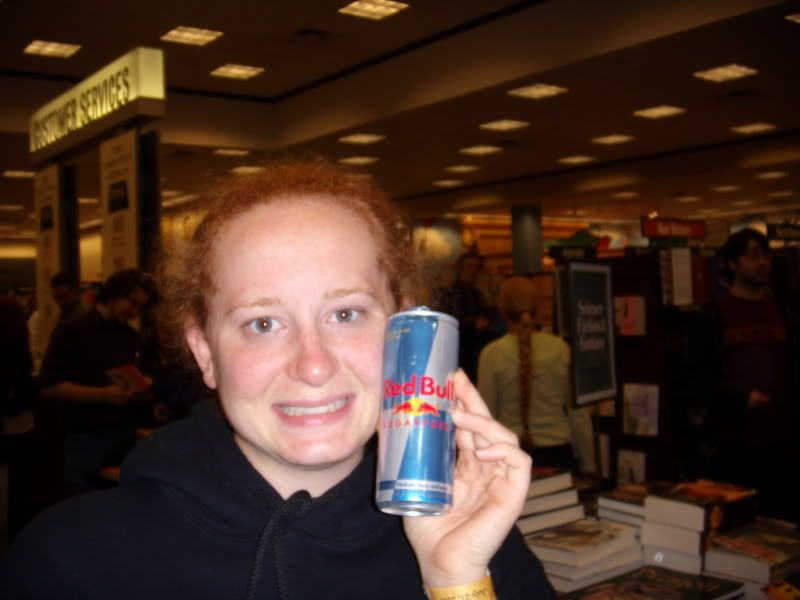 Audrey reading
The Golden Compass
because a bunch of us told her to. :P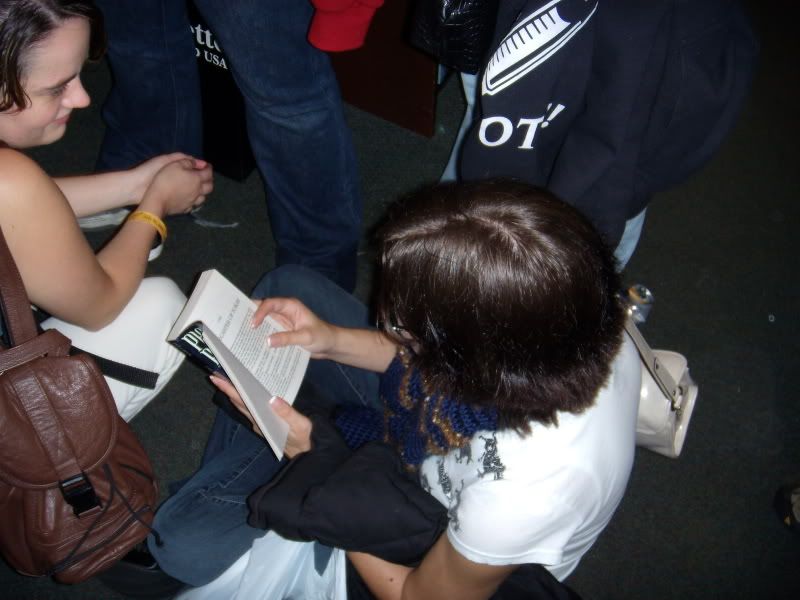 Laurie gets DH first?!?! NOT FAIR!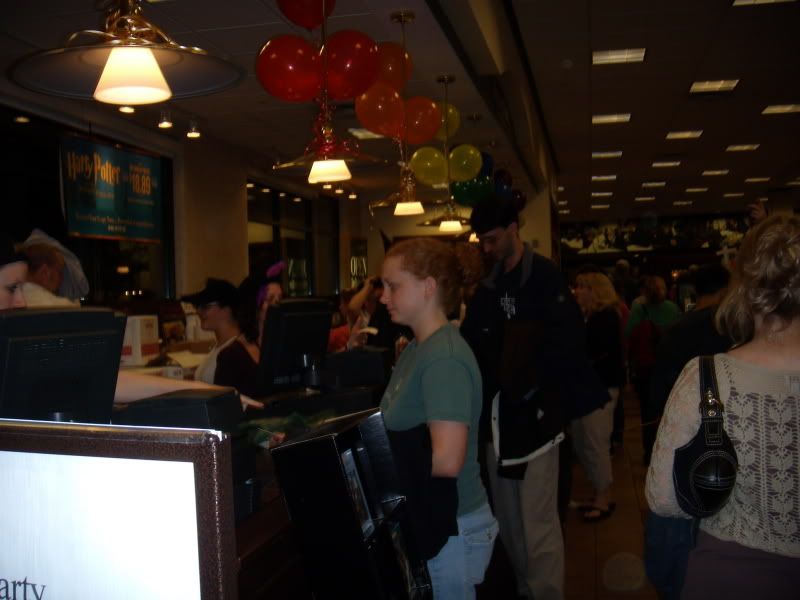 These didn't come in the mail in time for DH...but I've been wearing them out and about. :D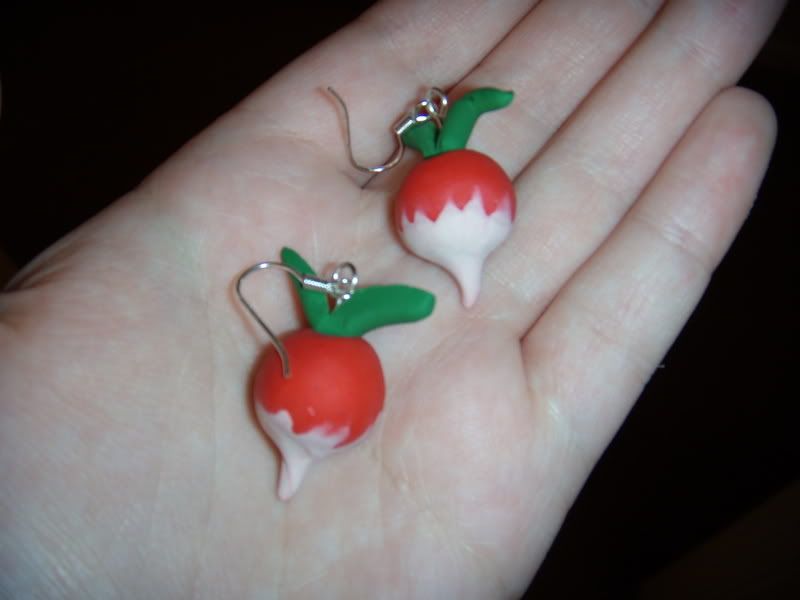 And now pics that have NOTHING TO DO WITH DH!!! *le shock*
Susan and Daniel finally took their honeymoon type thing. But they were nice enough to send me postcards of something that I, along with other MSTies, really appreciate.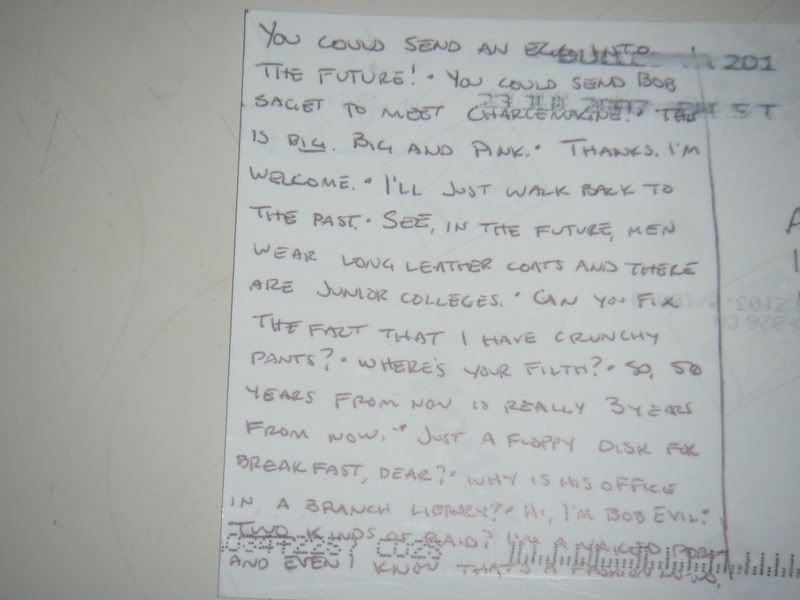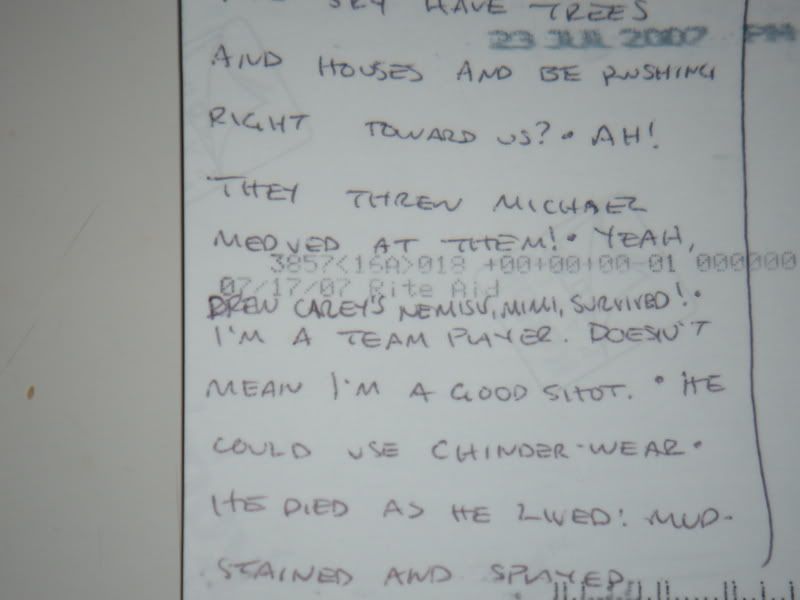 Those are pics of Rutland Airport, and a road sign for Castleton!!! If you've seen my favorite episode of MST3K,
Time Chasers
...you'll get that. If not, fuck you, 'You Castleton snob'!
I got to leave work early today!!! Not for a fun reason though. I ate something that did not sit well, so I was in agony. I can't use any restrooms other than my own. Not for
that
anyway. So I was racing home! I mean, speeding more than usual. But of course today I was stuck behind every dumbass on the planet. My icon (courtesy of
mrbnatural
), expresses my mood on the way home. "OUTTA MY WAY, JERK-ASS! It's 45!!! Not 30!!! What the hell is wrong with you?!?!?!"
[/TMI]
I think I am feeling better though. Which is good. Because I am going to
The Simpsons
movie tonight with
asiswellknown
!!!!!! SO EXCITED!!!!!
To
jedipanchan
, I promise to have that ficlet soon. I know it's only two sentences, but I want it to be abso-fruit-ly perfect. Plus, I want to do some art with it. And for the story you wrote. But it's been a loooong time since I've really drawn anything.
And fic rec from
erotic_elves
! Here's an awesome Percy/Luna fic entitled
Fanciful Creatures
by
mediasavant
. If the community title didn't give it away, NSFW.
Oh and my two favorite dancers made it last night! They weren't even in the bottom 4!!! YAYEEEE!!!!
Current Mood:
silly
Listening/Watching: Scrubs