Boo-urns. iTunes is acting funny. Can't even access it. So I am re-downloading the software. Hopefully that'll do the trick.
It seems to have done the trick! :D
HOLY COW!!!!!!!!!!!!
I honestly loved it! It was my least favorite book, but I really like what they did with the movie. Luna, so adorable, I want to adopt her. I love her dreamy little voice. She should've been in the film more though.
And Neville! You get on with your bad self! I was so proud of him. I wanna give him such
a shag
a hug. I need to go read some Neville fic now. He is just so awesome! One of the few characters I think everyone likes. If you don't like Neville, fuck you. I don't trust you.
Okay, they were totally set up for the next movies. Not only HBP, but Deathly Hallows as well. I mean, Ginny watching Cho and Harry right before 'The Moment' (which there was some whistling and "Ow!"s). And Ron getting jealous of Grawp's crush on Hermione. Okay, I hate Ron/Hermione more than just about anyone. But I've gotta say that was pretty fuckin' cute. And then Neville being the one to pull Luna away from danger. Okay, Neville and Luna haven't hooked up in the books...yet. I predicted they will as soon as I finished HBP. I told my boss at the time as much, and he was like "O RLY?" and I said "Ya RLY", and then a look of total epiphany and "Holy crap, you're right!" crossed his face. And the same thing happened when discussing it with my mom.
Imelda Staunton was the quintessential Umbridge! I kept wanting some to jam Her Special Quill into her neck! But I think that's how I'm supposed to feel. Well, maybe not so violent, but negative emotions are called for. The following macro is for her. When asking Trelawney to make a prophecy, I felt like shouting, "You'll never get laid!" But I don't think that would've been entirely appropriate. LOL!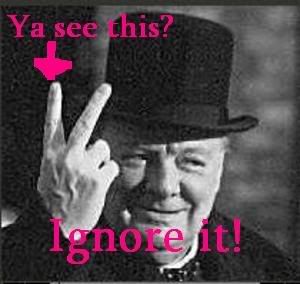 Helena Bonham Carter...awesome as Batshit Bellatrix. But of course I can't help pondering how Lucius feels about his sister-in-law, and other various facts that canon does not really talk about. I know this is blasphemy, but JK Rowling does kind of bug me at times. She gives her characters flaws, but not
real
flaws...if that makes sense. And everything is so black and white, good and evil. I realize that these are in fact children's books, and so often in such that's how the world is portrayed. But I don't know. Still bugs me. Like if she makes Snape a bad guy in the seventh book, I am gonna throw a bitch fit. Not just because I love him. But because Snape is one of the very very very few multi-dimensional characters in the HP-verse.
Maybe this is why I enjoy the fandom so much. Canon just irritates me. :P
One thing I did
NOT
like was how Percy didn't have any lines!!! Quoi le fuck?!?!?!
asiswellknown
actually told me that before I saw the movie, which was good. If I hadn't known beforehand, I think I would have started cursing very loudly in the theatre. But damn did he look good in that suit! Percy, I want to molester you!!!! When it comes out on DVD, there will be lots of pausing in his scenes. He had a lot more scenes than I thought, which was good. But I wanted to hear him!!! *le sigh*
Speaking of sexy Weasleys...Fred and George! Mmmmm...
I want to be the filling in a Weasley pie.
I made a deal with
asiswellknown
. She wants to see it again, so I said I'd go with her, if she would go see
Transformers
with me. And she agreed! Huzzah huzzah! I mean, I would have seen it with her again anyway. But dammit, if I don't see Shia on the big screen, I am gonna shit a brick.
So yes, HP did put me in a much better mood than I had been. Also, I got home in time to vote for SYTYCD!
I was a little worried for Pasha and Sarah. I like when two different styled dancers come together. But I think there is such a thing as
too
different. And since they are both my favorite dancers separately, I was really hoping they would pull it off as a duo... AND BOY DID THEY! OMG, that was so amazing! And it was choreographed by my Benji! My fave dancer from season 2, with my favorites from season 3 coming together was such a magic! WOW! I was so impressed!
And I voted for them...a lot. It's nice that now that they're a pair, I don't have to call in for two couples.
And I love how Benji was sitting with Shane. Shane was a total Benjeller last season (ya know it's true), and I think/hope those two are friends in real life now. XD I'm a dork and things like that make me happy.
Cedric and Shauna, plz to be going home now. Sorry, I'm still pissed at Cedric, even if he did okay last night. And Shauna still annoys me like none other. Like Jamie annoys me a little too, but she is just so damn cute and sweet, you can't help but like her. Or at least tolerate her.
And Hilary Duff will perform tonight! YAY! :D
Congratulations, you are the personification of all that is evil. Your hobbies include killing people, walks by the lake and torture. But hey, when you're this powerful, who needs friends?
*********
I also had a good sleep last night. So that's also probably why I am in a better mood. I slept in the guest room because:
a) it was at least 90 degrees in my room (not exaggerating)
b) there was a spider on my ceiling that I lost track of before I could get the Swiffer to kill it with. Sorry, I can't sleep knowing it's in there. Tonight will be fine. It'll have had hours to vacate the premises. Total ostrich-in-the-sand syndrome. If I don't see it, it's not there.
We have the lights off in the office. Tom has some problems going on with his eye. Whatever, I like it. Makes me feel like I'm doing something shady,
Current Mood:
pleased
Listening/Watching: "Lesbian Seagull" by Englebert Humperdink