Okay, my love for Stephenie Meyer has just grown exponentially. I was browsing Amazon (like ya do), and she had this to say in her seven question interview:
Q: If you could write your own epitaph, what would it say?
A: I'd like it to say that I really tried at the important things. I was never perfect at any of them, but I honestly tried to be a great mom, a loving wife, a good daughter, and a true friend. Under that, I'd want a list of my favorite Simpsons quotes.
A
Simpsons
fan. That is amazing. XD
I also found this quote by the great Stephen Colbert on Edward Cullen, "Parents, do not let your daughters read 'New Moon'. And if they absolutley must date a monster, encourage them to go out with a nice zombie. At least he'll be interrested in her for her brains." I like it especially because it reminds me of Sylar, LOL!
Star Wars Horoscope for Aquarius

You can be cruel and torment people who disagree with you.
Deep down, there is a peace-loving, friendly side to you.
You have a knack for inflicting pain on people and use your intellect during battle.

Star wars character you are most like: Darth Vader
Isaiah Washington fired!
About fucking time! Now, I don't necessarily think he is a homophobe. Because I may call another girl a slut in anger, does that mean I hate all other women? No. He could be one, he could not be, I don't know. However, that was a horrible thing for him to say. And you do not treat your co-workers that way. If he had worked in an office building, they would have fired him that day. I do think he is an asshole, and he probably has anger problems if that is how he deals with his frustrations.
On the other side of that coin,
Screened Out: Gay Images in Film
@ TCM*dot* com. Yay! They mention
That Touch of Mink
! I love that movie!
Okay, I know everyone wishes I would just STFU about
Twilight
already...but I just cannot help myself! I am almost done with the book...
Edward Cullen = Gaspard Ulliel
Duh.
Bella Swann = Emily Browning
Again, duh.
Carlisle Cullen = Christian Coulson
Maybe he isn't old enough. And not blonde. But I can't help but envision him in a smart, white doctor's coat. XD And he has a very commanding, authoritative aura. At least to me.
Esme Cullen = Mary Louise Parker
She is so gorgeous! But not in an overpowering way. And she played a good, if somewhat flighty, mom in
Saved!
. She just exudes Esme to me.
Rosalie Cullen = Jessica Stam
Yes, a model, not an actress. While I am not finished with
Twilight
yet, Rosalie is kind of a quiet character, so far. I think Jessica could really pull it off.
Emmett Cullen = James Franco
Maybe not built enough for Emmett. But if he really worked out, I think he is one of the few males whose beauty could stand up to Jessica Stam's.
Alice Cullen = Ellen Page
I could
maybe
see Eden from
Heroes
, but I think she is a little too old. Ellen is short, spry, and could really embody the character of Alice.
Jasper Hale = Robert Pattinson
Do I need a reason?! It's Robert EFFING Pattinson!
Charlie = Vince Vaughn
Not an obvious choice. If he packed on a few pounds, I think he could be very paternal. And I think Bella's parents are a little on the younger side.
James = Cillian Murphy
Cillian is the go-to-guy for this type of role. While I don't want him typecasted, this role was made for him.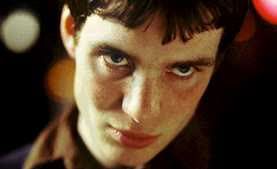 Victoria = Kate Winslet
I've never seen her play this kind of character before. But she would make a beautiful vampire.
Mike Newton or Tyler Crawley = Shawn Ashmore
I am iffy about this choice. I don't think he is...pompous enough for Mike, and not as...excitable for Tyler. But it could work. *shrug*
The rest...I have no idea. :P
Okay, first Photobucket was going insanely slow. And then it said it had uploaded images, and they didn't show up. I give a big "FUCK YOU, BETCH!" to Photobucket! I had to go to Flickr. I HATE Flickr!
*stews* After Flickr taking as long as it usually does, I went back to Photobucket who is now minding his behaviour. You still don't get a cookie, Photobucket! You've decided to go exceedingly slow on the ONE LAST PIC I am attempting to upload.
I am in a major "I don't give a shit" mood. That is very bad! I get very grumpy and self-indulgent when these occur. And I have bills to enter (after finding all the back-up info, which is harder than it should be because no one gives a shit that it takes me forever), and then file them. Then get all the invoice information ready for Monday. I can't do the invoices until Monday because obviously we won't have today's paper work til then.
And I have a really bad stomach ache. There! Have I complained enough? I might have to invest in some Pepto-Bismol, but it just looks so disgusting to me! And their commercials bug the shit out of me!
Current Mood:
sick
Listening/Watching: "Bring On The Dancing Horses" by Echo & the Bunnymen