Okay, just finished the whole first season of
Ugly Betty
. OMG, the finale made me cry so hard!
I was losing track of all the backstabbing. But I also like how none of the characters are black and white, except maybe Betty, Henry, and Charlie.
And yay! Maggie from
Extras
is in it! I love her! She is so awesome!
And how great is Henry! I love him way too much for a fictional character. When he tried to defend her honor at that medeival thing. Aaaaw! I love him. And how he remembered her favortie flowers, her favorite Disney princess (Cinderella, her mother read it to her at night), etc. Did I mention how much I love him?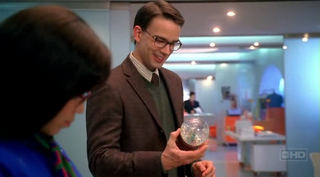 Charlie, I don't care if you're knocked up; I will punch you in your cute little face!
Marc and Amanda, they are such bitches. I want to go out for drinks with them! I loved on Thanksgiving how they were getting plastered with champagne and trying on all the gowns. And when Betty pretending to Marc's girlfriend for his fat bitch of a mom...so sweet. "You'll always be my little enchilada. *pause* This doesn't mean that I like you". And I also liked when Amanda started beating Salma Hayek's character with her bag in the elevator.
Oh, and Marc dressing up as Betty on Halloween...cruel, but fabulous!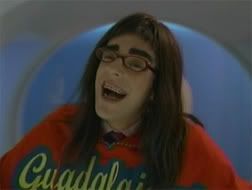 As much as I think Betty and Henry are way too perfect, I would not be adverse to reading some fic of Betty and Daniel. Once Daniel gets his shit together of course. I mean, Daniel is a nice guy, a good guy. But so selfish. Granted, if I had been going through all that stuff (sometimes asshole father...okay, most of the time asshole father, who put his brother on a pedestal, alcoholic mom, favored brother dying, then coming back two years later as a woman, etc.) I would be pretty fucked up too.
Hilda, you are just awesome. :D What really made me cry at the finale was when she got the news about Santos. Oh my gawd, so sad. I also cried when Betty went to see her grandma, and she thought Betty was Rosa. So heartbreaking.
You scored as Justin Suarez, You're Justin. You don't care about what people think of you and you love fashion.



| | | |
| --- | --- | --- |
| Justin Suarez | | 76% |
| Marc St.James | | 72% |
| Amanda Tanen | | 68% |
| Wilhelmina Slater | | 64% |
| Daniel Meade | | 40% |
| Christina McKinney | | 36% |
| Betty Suarez | | 36% |


Which Ugly Betty character are you (pictures)?
created with QuizFarm.com
Oh, and
Ugly Betty
has made me love Jason Mraz even more. Watch...
And if you liked the song and want it; if you give me the e-mail address you use on iTunes and I will totally gift it to you. Part of the proceeds go to a really
awesome charity
.
Ooooh, and I LOVE my new icon that
misunderstood_b
made for me! She actually made me a few inspired by my favorite lyric, "Your scars they matched my dress". But how awesome is she?! Round of applause! And they are totally shareable!
Icon 1
Icon 2
Icon 3
Icon 4
Icon 5
Icon 6
Just remember to give credit! :) I know you will, it's just one of those things you have to say. Like "But don't tell anyone" or "Of course that dress doesn't make you look bloated!"
I also saw
POTC3
on Friday. I won't give anything away. We had one of those interactive audiences, which you know I love. And there were five of us (I went with my
Heroes
watching crowd), so we had to sit separately. But a guy who was gonna be seated next to Jerry and Diane was really nice and offered to protect their saved seats. I was gipped out of an HP preview
AGAIN
! But I did see one of
Transformers
and
Live Free Or Die Hard
, and they both look awesome!!!! I have an unnatural love for Shia LeBeouf. And I liked
Die Hard
and
Die Hard with a Vengance
. I actually never saw the second one. I actually though DHwaV was the second one for a really long time. XP Anyway,
Pirates
was good, a little too long. I can't really say anything; because while I do like the movies...it is nowhere near how much most other people love them.
Yay! I have Tuesday off! *gloats*
"Homer, the plant called. They said if you don't come in tomorrow, don't bother coming in Monday."
-"Woohoo! Four day weekend!"
Current Mood:
hungry
Listening/Watching: "The Beauty in Ugly" by Jason Mraz