Well, have been here for just over half an hour...and no one else is...dun dun dun! This would normally be A-OK with me, but my internet connection here apparently despises
LastFM
! I want to blast some tunage, brosef!
1. Which character do you actually prefer the movie version of?
There aren't any characters I prefer more in the movies, but there are characters I think were performed perfectly. Like, Maggie Smith pwns the part of McGonagall.
2. Which character do you usually love, but dislike his or her movie portrayal?
Ummm...I think Remus should not have been put in so many Mr. Rogers-esque sweaters. Should've been played by Ewan McGregor dammit!
3. What is your favorite moment/line/etc. added to the movies that doesn't show up in the books?
Ummm...Something about Hermione punching Draco, rather than canon slap amuses me greatly.
4. In a perfect world, ________ would play _________.
Amanda Seyfried would play young Narcissa Black. We may never even see Narcissa as a young girl, but this is how I pictur her.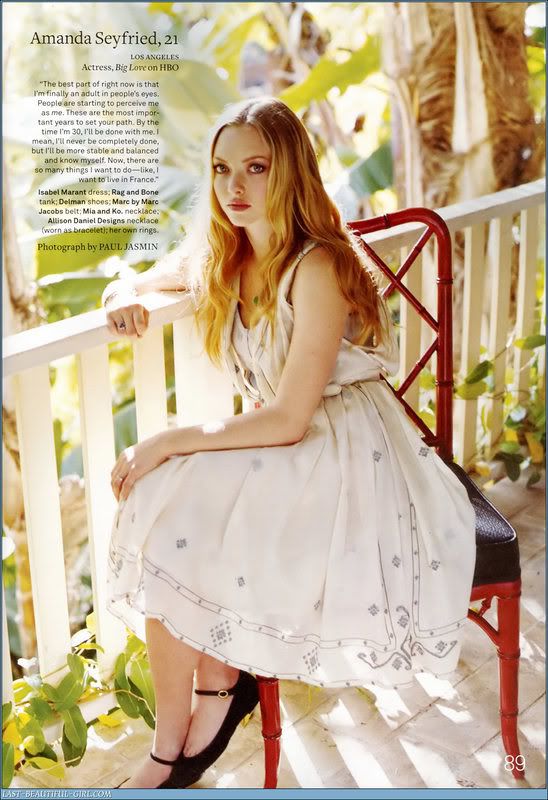 5. What is your overall opinion of the movies?
Eh. Definitely not as good as the books, which is true of everything, excluding Jane Austen. There, I said it. And they provide eye candy, and a way to get me out of the house.
How awesome was
The Office
last night?!?! I love you Dwight. Creepy, adorable man. Angela having to shop at American Girl, totally made me think of
aelindil
! :D I keep trying to call 1-800-984-3672 for some LULz, but I keep getting a busy signal! It had better open up before my bosses get back! Ummmm, Jan got a little creepy. But I still think she and Michael belong together. She just needs to lighten up. Oh, LOVED Creed having to use the women's room for number 2. I mean, I love him when he is
off
, but I love when he has sensitive moments like that. However odd they may be.
Oh damn. I see my dad's car coming. No more time to call and hear Dwight. :(
Mmmm...there are Oreos! I should say no, seeing as whenever I eat them, I get the black stuff stuck in my teeth...but they are so good! Eh, what the hell.
Current Mood:
disappointed
Listening/Watching: "The Road I Must Travel" by The Nightwatchman