My dad/boss was super nice and let me take today off, since I had to go in early on my birthday yesterday!!! And I was totally awesome and actually put on real clothes, make-up, and did my hair in a side ponytail, as I promised
candichristine
. And I looked totally hot! Well, as hot as I can get...so I guess I was cute.
I had leftover peach pie for breakfast...yummy.
I went to Redmond Town Center and
walked
to Half Priced Books! Yes, Allee walked somewhere! It's only a few blocks; but c'mon, it's something. I bought
The Fountainhead
by Ayn Rand, I've wanted to read it for years, and a book about tsarinas of Russia. Yes, I now have enough books to start my own historic Russian library. But I did stop myself for buying a book about the Zodiac killer. I made myself promise to wait until I finish the one I am currently reading.
So then I walked back to my car, decided not to do any mall shopping. Then I went to the post office and sent out all my international mail. So, some people may get early Valentines; but whatev. Wanted to be safe. The lady was super nice to clueless me. And I bought some stamps, so I won't have to go there again for the rest of the valentines.
Then, I went to Barnes & Nobles and pre-ordered Harry Potter. I consider the announcement of the release as a personal present from JK Rowling. I even wore my Slytherin scarf. I also bought a book on tarot, a book on Wicca, and a set of tarot cards; seeing as I cut my old set up for a random art project. Also got some soy white hocho from cute baristas.
This
is the camera I got from my parents, but in dark pink. I know nothing about cameras, but it is little and pink and I love it! It even comes with some free photography lessons! Will definitely be taking those. I also got four DVD sets of MST3K. Yes!
Lauren gave me Aaron Stanford and Hugh Laurie, and the girls from the EJami board gave me cocktails and Jensen Ackles in a towel, served on a platter...it was a very sexy day indeed.
And look at what the very talented
hazy_crazy
made for me!!!!! I shall have a very hawt desktop! *shrinks windows so she can gaze at Aaron while working*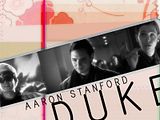 Your Vampire Name Is...
Opal of the Night
Off to do laundry and watch some Firefly. Ta ta!
XOXO
Allee
P.S. The Office last night...Dwight in a bra! Dwight in a bra!!!!!!!!!! XD
Current Mood:
accomplished
Listening/Watching: "Shining Star" by Earth, Wind, & Fire