I was tagged by the lovely
polaris86
:D
3 Hobbies
- cinema
- reading
- singing badly
3 Things on my to-do list
- laundry
- learn Russian
- read Eragon
3 Favourite Food
- pancakes
- popsicles
- cheesecake
3 Awesome Anime
- Sailor Moon
- Fruits Basket
- Eerie Queerie
...don't know if some of those are the same as "anime", but I don't watch it, so it's the best I got
3 Good Singers
- Marilyn Manson
- Johnette Napolitano
- Neil Diamond
3 Fantastic Songs
- "Friday I'm In Love" by The Cure
- "Both Sides Now" by Joni Mitchell
- "Dirty Deeds Done Dirt Cheap" by AC/DC
3 Good Singers/Bands I discovered within the last year or so
- Lostprophets (thank you
miss_bushido
- Panic! at the disco
- Rooney
3 Things I am anal about
- my DVDs
- all my HP collectibles
- my picture folders on the computer
3 Random men (and very random at that!)
- Sean Maher
- Neil Patrick Harris
- Hugh Laurie
3 Bad habits
- swearing
- cracking my knuckles
- spending too much money
3 Treasured memories
- going to HP & the GoF with a bunch of people (specifically Amanda because she is not totally into HP, but still was happy to come with and get excited because she knows I am obsessed)
- late nights at diners with everybody ("I lost my virginity to a hobo" *shrugs*, and singing the entire score from Reefer Madness: The Movie Musical)
- quote fest with with Nick C. in the backseat of Sara's car
3 Goals before 30
- live in another state
- fall in love at least once
- go to Prague
3 Biggest Fears
- spiders
- puppets
- the cockamouse (LOL, sorry had to do it.
lamborat
knows what I am talking about)
Happy Thanksgiving to all the Americans who celebrate it. And if you don't then just have a great vacay day or just a great day in general! :D
Now off to do a small load of laundry so I will have pants to wear to dinner. Oh, and I have to check to see if there is a new The Office tonight.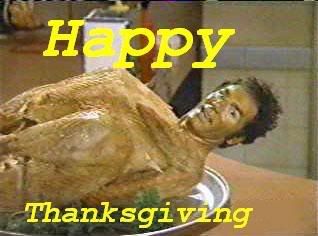 Current Mood:
refreshed
Listening/Watching: How I Met Your Mother