I tried ColorOops last night. I don't know if it wasn't warm enough in my bathroom or I didn't rinse enough...but now my hair is a weird shade of brown. I liked having black hair, but I was ready for a change. I of course didn't expect to go back to blonde in one night, but a lighter brown. Now I can't decide if I want to try one more time or go straight to the salon. I either want to have blonde or red hair (or some kick ass combo); but I don't know whether my hair is light enough to just bleach/dye it, or if I will also have to have it color corrected. I'd call the salon and ask, but I'm afraid of sounding like a total idiot. :P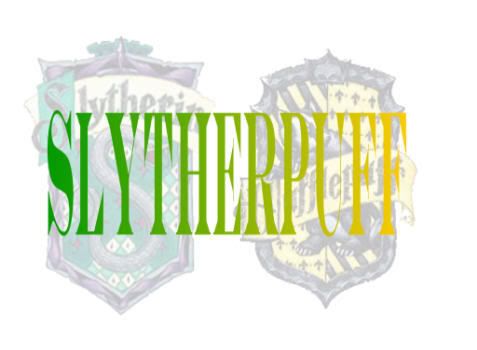 You're a Slytherpuff!: This is a rare combination but those that are true Slytherpuffs are not people you want to make your enemy. You take loyalty very seriously and if someone gives you their word you expect them to keep it. You either project a cold exterior and have a heart of gold inside or you seem all cuddly and nice on the outside and you are ruthless on the inside. People frequently underestimate you but this usually suits your purpose. Whoever has your loyalty is a very lucky person because you will fight tooth and nail to protect them. You have a protective streak and you like to champion the underdog. In life, experience has taught you that it's better not to be too idealistic or expect to much of other people. Still, deep inside you, you still have hope that everything will always turn out for the best. Your weakness is that sometimes you trust blindly, follow without question and this can lead you into trouble. With the loyalty of a Hufflepuff and the ruthlessness of a Slytherin you are a formidable person!
Which Mix of the Hogwarts Houses Are You?

I know I've posted this before. But it was a long-ass time ago. And I have a different result now, which I think fits better.
AND
I really want to use this icon.
HP
+ my favorite
3rd Rock From the Sun
quote = good times!
I still have an aversion to pizza. But I am going to try Red Baron french bread pizza. Maybe since it's not take out and has a slightly different flavor I'll be okay. Or maybe I'll be lazy and just have a Cup 'O' Noodle...
Current Mood:
silly
Listening/Watching: Roseanne