Stolen from
krys33
.
List six of your favorite TV shows and answer the following questions.
1. House M.D.
2. Heroes
3. Ugly Betty
4. The Office
5. Stargate Atlantis
6. Boston Legal
1. Who is your favourite character from #2? (Heroes)
Hmmm...Definitely a tie between Sylar and HRG.
2. Who is your least favourite character from #4? (The Office)
Andy. Goddamn you, Bernard!!!! Get away from Angela!
3. What would a crossover between #1 and #5 include? (House M.D./Stargate Atlantis)
OMG...That would seriously be the best thing ever. I know they have the most brilliant scientists on Atlantis, but if someone got sick and not even any of them could figure it out... Wow. Someone needs to write some crossover fic now.
4.Who is your favourite ship from #6? (Boston Legal)
I don't really have any ships for this show. I guess if it were to be anyone, Katy/Jerry.
5. If you were to set one person from #3 and one person from #6 on a blind date, who would they be? (Ugly Betty/Boston Legal)
Definitely Alexis/Alan.
6. If you could meet one person from #4 and spend the day with them, who would it be, and what would you do? (The Office)
Dwight. We would have a
Star Wars
marathon. Or, if we could go back in time, go to the release of an
HP
book together. XD
7. If you could change one thing about #2's plotline, what would you change? (Heroes)
I want Adam, Elle, and Sylar to team up and be a badass villianous team. And Adam and Elle would get it on.
8. Explain a relationship between two people (not necessarily romantic) from show #3, and why you like the relationship between them. (Ugly Betty)
Daniel and Betty. I would like to see this get romantic. Honestly, best ship on the show. I like how they unwittingly have become BFF.
9. If the lead title characters (first name in the credits) from #1 and #5 were both drowning, and you could only save one, who would it be? (House M.D./Stargate Atlantis)
Okay, I gotta go look up the orders and get back to you.
10. If you could change the title characters' order in the credits for #6, what order would you choose? (Boston Legal)
Again, gotta go look.
11. If you were able to add a new character, any kind of character you wanted, to the storyline for #4, what would the character be like and what would their role be? (The Office)
Well, if I can't add myself... I would add some really hot chick who was very much into Dwight, and it made Angela jealous.
12. What happens in your favourite episode of show #2? (Heroes)
Hmmmm... I don't really have a favorite. I'll have to think about it. :P
13. If you could kill off one of the characters of #1, who would it be and how would you do it? (House M.D.)
Chase. I just don't like him!
14. If you got the chance to visit the set for either show #3 or show #5, which would you choose? (Ugly Betty/Stargate Atlantis)
I gotta say
Ugly Betty
. Sorry, I gotta go with the more fashionable.
15. If you could date anyone from any of these shows, which show and which person?
But there are so many!
I limited myself to shows that were still on the air.
And now one stolen from
treerad
TECHNOLOGYQ. What is your wallpaper on your computer?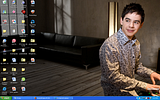 Yes, I realize that my love for David Archuelta could be described as "creepy".
Q. How many televisions do you have in your house?
Four working.
BIOLOGYQ. Are you right-handed or left-handed?
Right-handed
Q. Have you ever had anything removed from your body?
Five teeth. Four for room (I guess I have a tiny mouth) and a wisdom tooth.
Q. What is the last heavy item you lifted?
My hamper. If you put off laundry like I do, it does get rather heavy.
Q. Have you ever been knocked out?
Only by drugs designed to knock me out <---Same
BULLSHITOLOGYQ. If it were possible, would you want to know the day you were going to die?
No.
Q. If you could change your name, what would you change it to?
Lady Ariel Ponyweather
Q. What color do you think looks best on you?
Blue.
Q. Have you ever swallowed a non-food item?
Toothpaste
DAREOLOGYQ. Would you kiss a member of the same sex for $100?
Ummm...to answer your question, I'm bi.
Q. Would you allow one of your little fingers to be cut off for $200,000?
Probably not
Q. Would you never blog again for $50,000?
Hmmm... I dunno. Probably not. Only because I would spend that really fast, whereas blogging can (and probably will) go on forever.
Q. Would you pose naked in a magazine for $250,000?
Only if it were meant to arouse or be art. If it was some sort of freak show, National Enquirer thing, then no.
Q. Would you drink an entire bottle of hot sauce for $1000?
Oh yeah!
Q. Would you, without fear of punishment, take a human life for $1,000,000?
Depends on who it is.
DUMBOLOGYQ: What is in your left pocket?
No pockets.
Q: Is Napoleon Dynamite actually a good movie?
Yes! And I did see it before it got popular.
Q: Do you have hardwood or carpet in your house?
Carpet
Q: Do you sit or stand in the shower?
Stand. I've occasionally had to sit, because I felt like I was going to pass out.
Q: How many pairs of flip flops do you own?
A lot.
LASTOLOGYQ: Last person who texted you?
Lauren (
asiswellknown
)
Q: Last person who called you?
Audrey
Q: Person you hugged?
John
FAVORITOLOGYQ: Number?
9
Q: Season?
Autumn
Q: Color?
Pink
CURRENTOLOGYQ: Missing someone?
Yes.
Q: Mood?
Silly
Q: Listening to?
The Simpsons
Q: Watching?
See above
Q: Worrying about?
The mail.
Q: Wearing?
A tee shirt with different types of super villians and grey sweats.
RANDOMOLOGYQ: First place you went this morning?
the bathroom
Q: What can you not wait to do?
Eat dinner
Q: Do you smile often?
I dunno.
Q: Are you a friendly person?
It's been known to happen.
Okay, I love Tom right now. He said I don't have to go to work tomorrow, seeing as we are unbelievably slow. Huzzah!!!!! But I am going to try and force myself to use the extra time to clean and other such not-fun adult things. But I shall make up for that with waffles and ice cream for breakfast, if I don't have it for dinner that is. XD
Have y'all seen/read
this
? If you are at all a fan of The Twins or Percy, it is definitely something you must read!
Am I the only one who gets pissed off at the new McDonald's commercial? The one about how they now have lattes? The one with the fellas is okay, because they are kinda foxy. But the one with the girls just annoys me. You really don't know that a country called 'Paraguay' exists? Really? Am I the only one who doesn't find humor in ignorance?
Current Mood:
thankful
Listening/Watching: the simpsons