Okay, here are is the compiled list of answers to
yesterday's meme
. Some with screencaps or clips!
polaris_86
gave me:
Top 5 most embarassing moments in your life.
(I just noticed a lot of these are about guys. XD)
- I switched schools in 4th grade. My first day at the new school, I walked into the boys bathroom. :P
- Forgetting how to spell "dumb" on the white board, in front of my whole class. Fucking irony!
- This dick (who I later had a crush on, LOL!), read my diary over my shoulder, and saw what I had written about another boy. I don't know how many people he told, but I know there were some.
- When a boy who I liked caught me staring at him. But he was angellicaly beautiful! I couldn't help it!
- Crying in front of my entire class, when my teacher was apologizing to me for something.
Top 5 meanest cliffhangers at the end of an TV show - episode
- season 2 of
Heroes
. Even worse because we have to wait even longer for new episodes because of the strike.
- season 2 of
The Office
, after Jim and Pam kiss.
- the first season of
Alias
. Did Vaughn survive or not?
- season 6 of
Buffy
, Spike gets his soul back. Many will say the end of season 5 is bigger. But since there was all the talk of Buffy moving to another channel, it was obvious she would be brought back to life.
- someone is pregnant on
Friends
(Monica and Chandler's Wedding).
And
jedipanchan
gave me:
TOP 5 LAMEST PLOT TWISTS
- Nathan being Claire's father on
Heroes
. Way too obvious. Plus it rendered Paire to only exist in fandom. *le sigh*
- Curly's twin brother in
City Slickers 2
.
- The end of
The Village
. I actually really like this movie. I though Joaquin Pheonix was really
hot
good. But even I have to admit it wasn't that much of a shock. I watch it more for the love story than the twist.
- The end of
Saw 2
. Okay, I didn't see it coming. But I can be quite oblivious. And wasn't all that shocked.
- Can I say
Citizen Kane
? If only because it is so played out? I'm sure if I hadn't know the ending when I first saw it, I would have approved. It is a great movie, and the revelation did tell you something about the character if you really think about it. But still, played out.
TOP
5
6 SEXIEST ON-SCREEN KISSES
- I gotta start with an almost!kiss. In the 2005
Pride & Prejudice
, when they're fighting in the rain. You can seriously feel how much how much they want to kiss. *dies*
- The
Sixteen Candles
kiss over the birthday cake. What girl honestly didn't want a kiss from Jake Ryan on her birthday?
- Sami and EJ
getting frisky on the couch on Days of Our Lives. Their first kiss (huzzah!), and James Scott shirtless. Hummina hummina!
Okay, I gotta change my answer. That was actually their second kiss. But my favorite was their first kiss, where he goes to wake her up, and she kisses him, thinking it's Austin. All I know is that I got turned on the first time I saw it. And he's still shirtless! You can see it in this fanvid (one of my faves), it's right at the beginning of the vid. Even if you don't watch the show, you should really see that clip. Effing haaaaawt.
ETA: The vid's been removed. Damn! Well, watch my fanvid of the couple! Even though you only see the aftermath of said kis (at approx :55)
- Simon and Kaylee FINALLY getting together at the end of
Serenity
! One of my ships that is actually canon!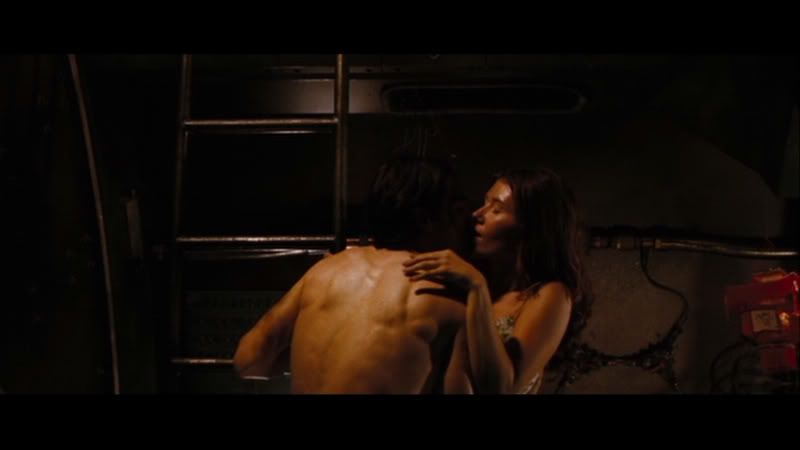 - Veronica and Logan, season 1 outside the hotel on
Veronica Mars
. I just love that they are still just getting to be friends again, but he feels the need to rescue her. *swoon* One of the few times she needs to be rescued.
- And I have to add one more. We always have to add some to our memes. XD But like I said to her, I'm a Slytherin so I cheat, and she's a Hufflepuff so she needs to include everyone. LOL! Oh how I love applying
HP
to anything and everything. Anyway, it's the steamy bathtub kiss between Lestat and Akasha in
Queen of the Damned
. STFU. I love this movie.
And I am still doing this meme! So if there is another Top 5 you'd like me to post, just lemme know. :)
I want it to be September. Right now. And not just because I am taking two days off work. I'm taking them off because
bombshell_chic
, her friend, and I are heading to Forks for Stephenie Meyer Day! Yay! Fangirl roadtrip! I am going to make so many mix CDs! XDDDD *iz excited*
I can't decide whether to bake cupcakes when I get home, or go to McDonald's for dinner. I know I shouldn't do both. It will probably be cupcakes, so I won't have to get cash. And I looked at some icons of cupcakes yesterday and really want some. :P
Your Score:
Balance
~ 37% Water ~ 59% Wind ~ 44% Earth ~ 55% Fire ~
And I know and I believe

There's a way out to the sea of happiness

It seems your personality is in perfect harmony; your impulses are tempered with thoughtfulness, and your emotions are balanced with a healthy amount of reason.

In order to maintain that harmony, try wearing a Jade, a Chrysoprase or an Agate; all three enhance balance and stability, as does the Snowflake Obsidian that will help remain balanced during times of change.

In detail: You are more balanced than most people. Your Ground Chakra, (associated with the element of fire and representing our basic desires and driving force), your Creative Chakra, (associated with the element of earth and representing our need to preserve and grow), your Heart Chakra, (associated with the element of water and representing our sense of love and compassion), and your Throat Chakra, (associated with the element of wind and represents our desire to learn and communicate), appear to be on an equal footing with each others.

These are the results you will get if you score highly on...

None of the four elements: Balance Wind: Gust Fire: Blaze Water: River Earth: Valley Wind & Fire: Thunder Wind & Water: Clouds Wind & Earth: Canyon Fire & Earth: Lava Fire & Water: Tornado Water & Earth: Trees Wind, Fire & Earth: Storm Wind, Fire & Water: Stars Wind, Water & Earth: Forest Fire, Water & Earth: Avalanche All four elements: Harmony
Current Mood:
cheerful
Listening/Watching: "That's How You Know" by Amy Adams