I hope everyone had some good holidays! And thank you for all the lovely cards! I am going to have to find a space on my wall for them, because they really touched me. :) I feel like I want to try snail mail more often. So if anybody gets a letter from me at some random point, that's why. Is that stalkery and creepy? Or sweet? There's such a fine line between the two...
Christmas Eve, I went to the movies with my parents and we saw
Sweeney Todd
. They hated it, but I had told them I was open to seeing something else. Parents, they never listen. LOL! But still, it was very nice of them to go with me. And
I
liked it. I thought it was beautifully filmed. And Alan Rickman was creepy as fuck!
Then we had dinner with my mom's brother family (Uncle Harry, Aunt Susie and cousin Krystal), like every X-mas eve. Aunt Susie made the most delicious meatballs! I usually don't like them that much, but she always makes really good stuff. The year before last it was perogis and borscht. I had no idea borscht was so good! And she had made lutefisk, but no way was I going near that. XP But I have to remind myself to e-mail my uncle some songs from
South Park
he doesn't have. After that, I had dessert with Amanda at Shari's, for the third year in a row. Yay for traditions!!!! =)
As for Christmas, I got some good stuff. I got this beautiful tea pot and matching spoon rests. We don't have any extra room for anything, so I didn't get cups. I just hope I am able to get them before the pattern is discontinued. I had a stomach ache and stayed home instead of going to dinner with my dad's family. I watched
Fright Night
,
Scanners
, and
Evil Dead 2
. Nothing says Christmas like gore and David Cronenberg. XD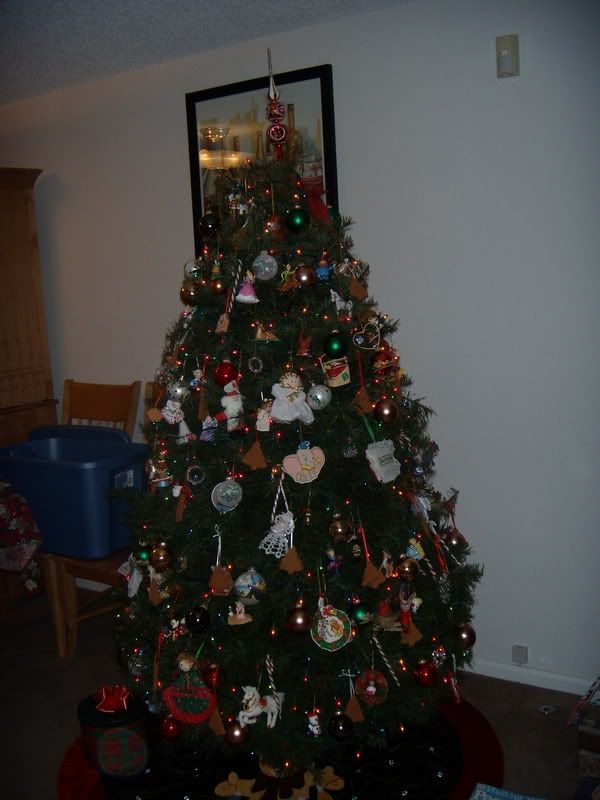 Our Tree
Some cookies my mom made
My new waffle maker! And a waffle/pancake mix from Williams Sonoma! Of course, every time I make them,
The Simpsons
will have to be quoted.
Lisa: *gasp* I've created life!
Marge: *calling from downstairs* Lisa, breakfast! We're having waffles!
Lisa: Ooh waffles! *runs downstairs* Heeey, these aren't waffles! These are just square pancakes!
Marge: Sorry, honey. The waffle maker's in the shop.
Lisa: *grumbling* Stupid waffle maker's been in the shop forever.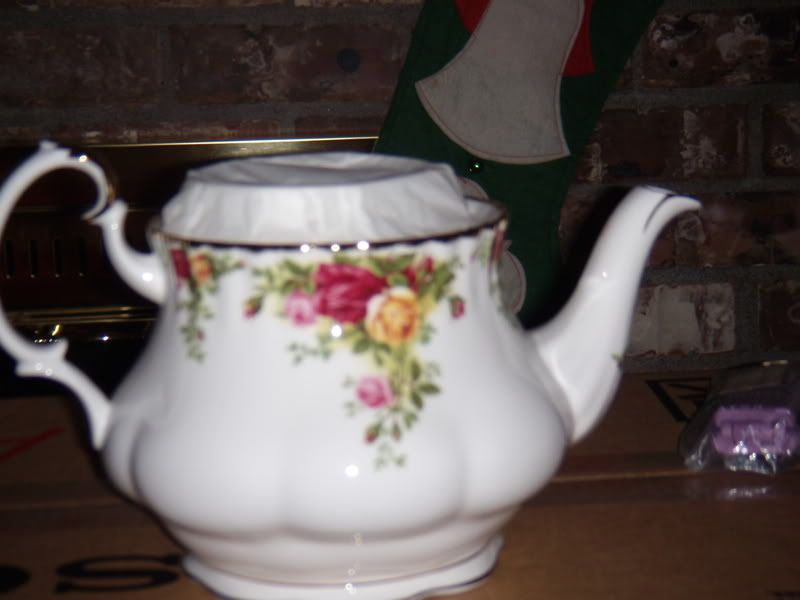 The teapot! I want to have a ladies' tea party!
And some earrings I got from my Aunt Joan and Uncle Bill.
Sorry, I'm a crummy photographer. And I was shaky from too many cookies as well. LOL!
They are calling for snow!!!! We had a tiny bit on Christmas, but that melted quickly. And I know I am totally jinxing it by mentioning this, but if there is snow in the ground when I wake up tomorrow, I am supposed to call in. Oh man, a snow days would be da shiz-nit!
In the Nora Roberts book I'm reading (which is awesome BTW), the heroine is a lawyer, and the hero keeps calling her 'counselor'. Now, if he has an accent, it's Brooklyn. But of course, I keep hearing in my head Robert De Niro in
Cape Fear
. "Counselor...Come out!"
Also, I haven't seen it (yet), but I am LOVING the soundtrack for
Juno
!
Current Mood:
thankful
Listening/Watching: "Tree Hugger" by Kimya Dawson & Antsy Pants