OMFGOMFGOMFGOMFGOMFGOMFG!!!!111!elevety-o
ne!!11!
Rainn Wilson is going to be at UW
on Friday! I am literally bouncing up and down! This is amazing! Here's more info on
Facebook
. I am probably going to have to go alone, but who cares?! This is amazing! My student ID is a couple of years old, and from the Bothell campus, but maybe they won't look at it too closely, LOL!
Tom is dog-sitting for one his daughters again. I love that little dog. He is so cute! Makes me want a dog again. But then I remember how much work it is. I am like a little kid. :P
To make this entry a little more interesting, I have a movie review!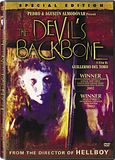 The Devil's Backbone
is by Guillermo del Toro, who did
Pan's Labyrinth
. It's been described as the masculine brother to
Pan's
, and I'd say that's pretty accurate. If you want a ghost story that has a lot of substance, I insist you watch this. Richly metaphorical, this film explores many parts of the human experience. Taking place during the Spanish Civil War, you see how war has to make children grow up too quickly, and how tragic the outcome of that can sometimes be. Every facet of this film is hauntingly beautiful; Javier Navarette is quickly becoming one of my favorite composers. If you're a crier, definitely have a tissue on hand, there are parts that just break your heart.
Current Mood:
ecstatic
Listening/Watching: "Life In A Northern Town" by Dream Academy