Happy
Bellini Day
, everyone! My fellow
KITH
fans know what I'm talking about. I wanted to wear a towel to work, as an homage to Mr. Paul Bellini, but alas. It's rainy, and not a good idea anyway. But I use my KITH/HP icon in celebration!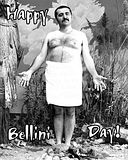 Oooh! I have a spiffy new userinfo thingy thanks to the fantabulous
427
!
Gawd! I am so bored! I talked to Amanda for awhile over MSN, I miss her so much!!!! But she had to go to class and the boredom has gotten worse. I feel like that frog creature Bart made the HP spoof in a
Treehouse of Horror
special. "Please kill me. Every moment I live is agony. *vomits*" Bart! You're getting vomit on my prince!
John Stamos is so awesome!
This is just awesome news
! I thought he did a great job last time. And now there's at least one thing Seacrest isn't hosting!
*EDIT*
The shelf in my desk that holds my keyboard fell off. That was exciting for a minute. It's back on now. And my toes are fine.
Current Mood:
bored
Listening/Watching: "The Wanton Song" by Led Zeppelin