So bored, so I've decided to post more. *is annoying*
Here are the answers and results from
guess the 15 ships meme
.
1. Damaged; one date; can't fix me.
House/Cameron (House M.D.)
, by
ww_sb_xf
2. outsiders; underestimated strength; odd duck, green thumb.
Neville/Luna (HP)
, by
distress_bacon
3. Scars; quarreling; taboo.
Amber/Luigi (Repo!)
, by
pellnell
4. Wasn't my battle, but I'll fight beside you; sexual tension; royalty; pirate.
Han/Leia (Star Wars)
, guessed by no one
5. partners; no one gets you but me; good guys.
Goren/Eames (Law & Order: Criminal Intent)
, by
danniisupernova
6. Games; manipulation; can't work together, but can't live without each other.
Chuck/Blair (Gossip Girl)
,
danniisupernova
7. Friendship; innocence in a time of battle, girlish dreaming.
Ginny/Luna (HP)
, guessed by no one
8. Saying the wrong thing; sweet, but blunt; medicine; mechanics.
Simon/Kaylee (Firefly/Serenity)
, by
danniisupernova
9. Teacher, student; help me find my way out of the darkness, Scooby.
Willow/Giles (Buffy)
, by
danniisupernova
10. Nerds; genius; flight; far from home.
McKay/Sheppard (Stargate Atlantis)
, by
downloadable08
11. Extremely odd; misunderstandings; cheating; rigid; get back to work.
Dwight/Angela (The Office)
, guessed by no one
12. Dark; tit for tat; eery sort of mutual respect.
Hannibal/Clarice (Thomas Harris-verse)
, guessed by no one
13. Possession; ink; couldn't have done this without you.
Tom/Ginny (HP)
, by
pann_cake
14. Perfect; teasing; fiery tempermant and hair.
Anne/Gilbert (Anne of Green Gables)
, guessed by no one.
15. Mentor; political opposites, friends first.
Jack/Liz (30 Rock)
, guessed by no one
And here's a random .GIF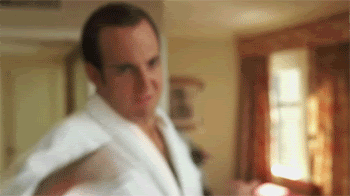 P.S. Is anyone else watching
Lie to Me
? If you're not, you should. Tim Roth is so awesome.
Current Mood:
uncomfortable
Listening/Watching: "Home Before Dark" by Neil Diamond